FRILO BIM-Connector®
FBC
In the context of networked building design, the FRILO BIM Connector® sets new standards because it allows structural engineers to participate efficiently and usefully in the OpenBIM process based on a single model for all people involved. With the help of the BIM Connector, specific, three-dimensional models* from any CAD software can be converted into suitable calculation models** without any loss of data or information. Numerous sophisticated functions allow the user to prepare the building data of the model optimally and intuitively for the intended structural calculations and verifications with a mouse click. There is no need for remodelling.
to the shop
Discover more products from the FRILO portfolio now!
SHOW MORE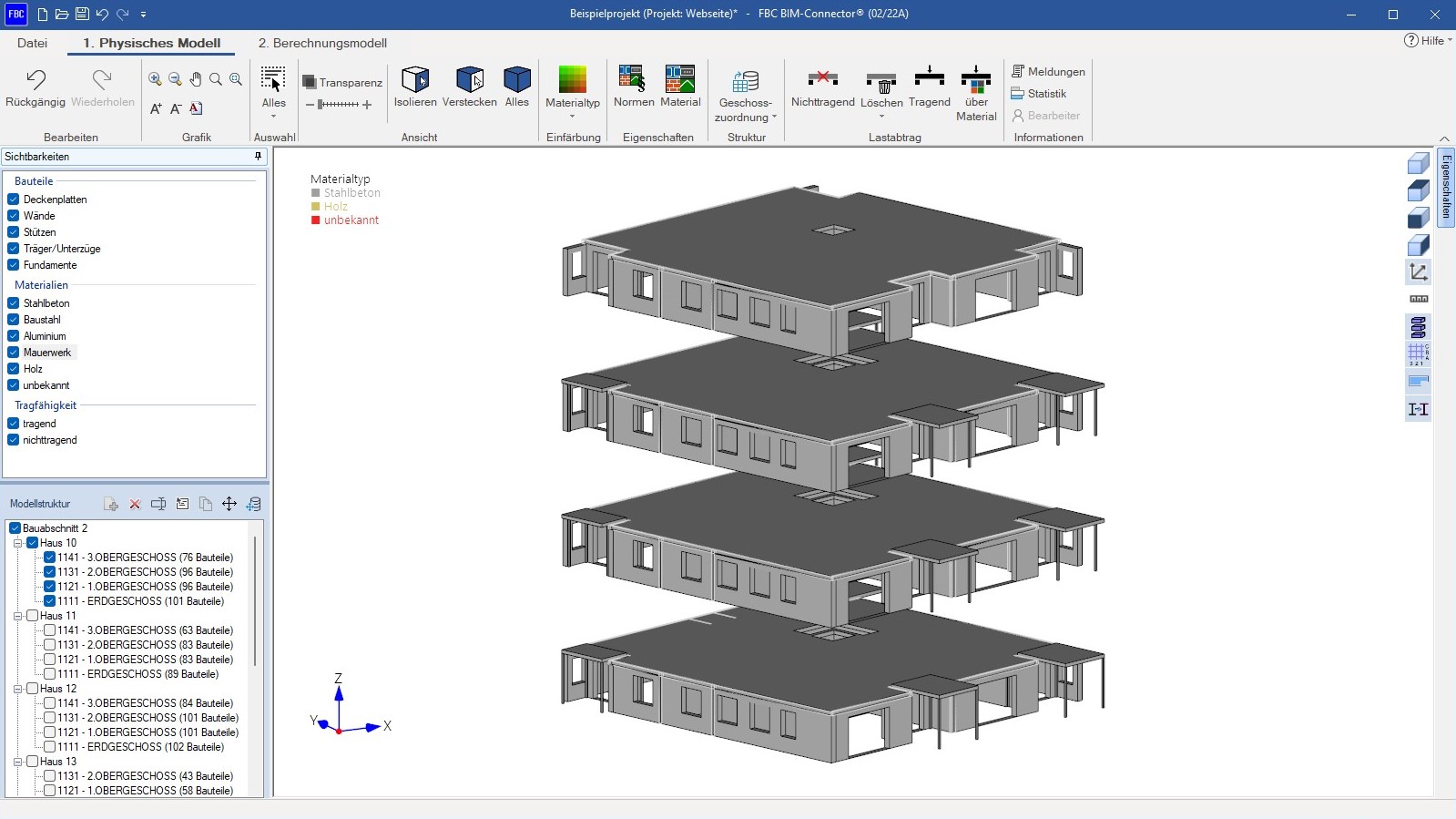 Automatic storey assignment
The user can clearly structure the building and divide it into individual floor levels in the physical model via the automatic assignment of floor slabs to storeys and the associated load-bearing components.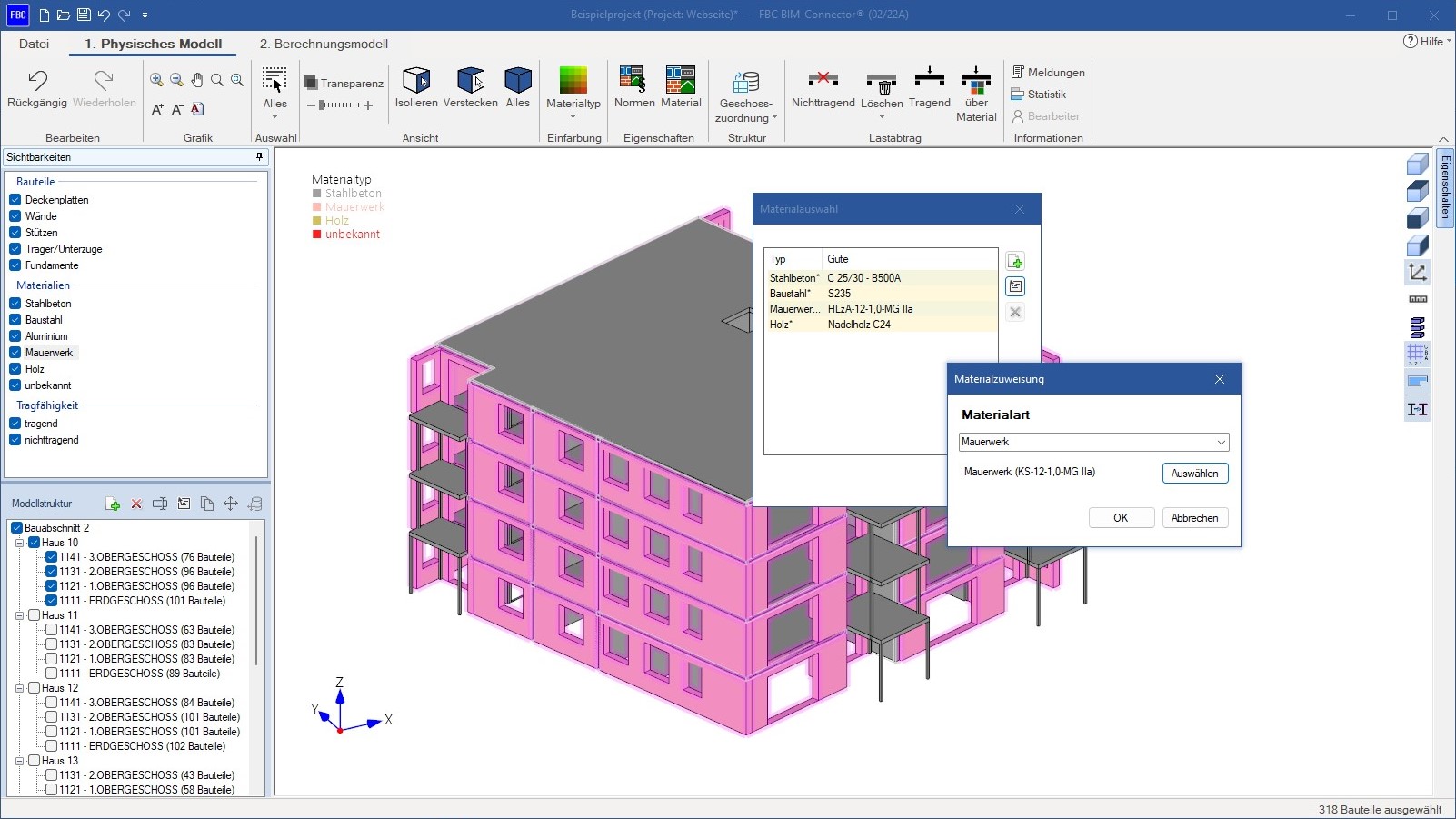 Subsequent assignment of materials
The BIM Connector can read out assigned materials and material grades already during the import of the file. In addition, the user can assign missing materials subsequently.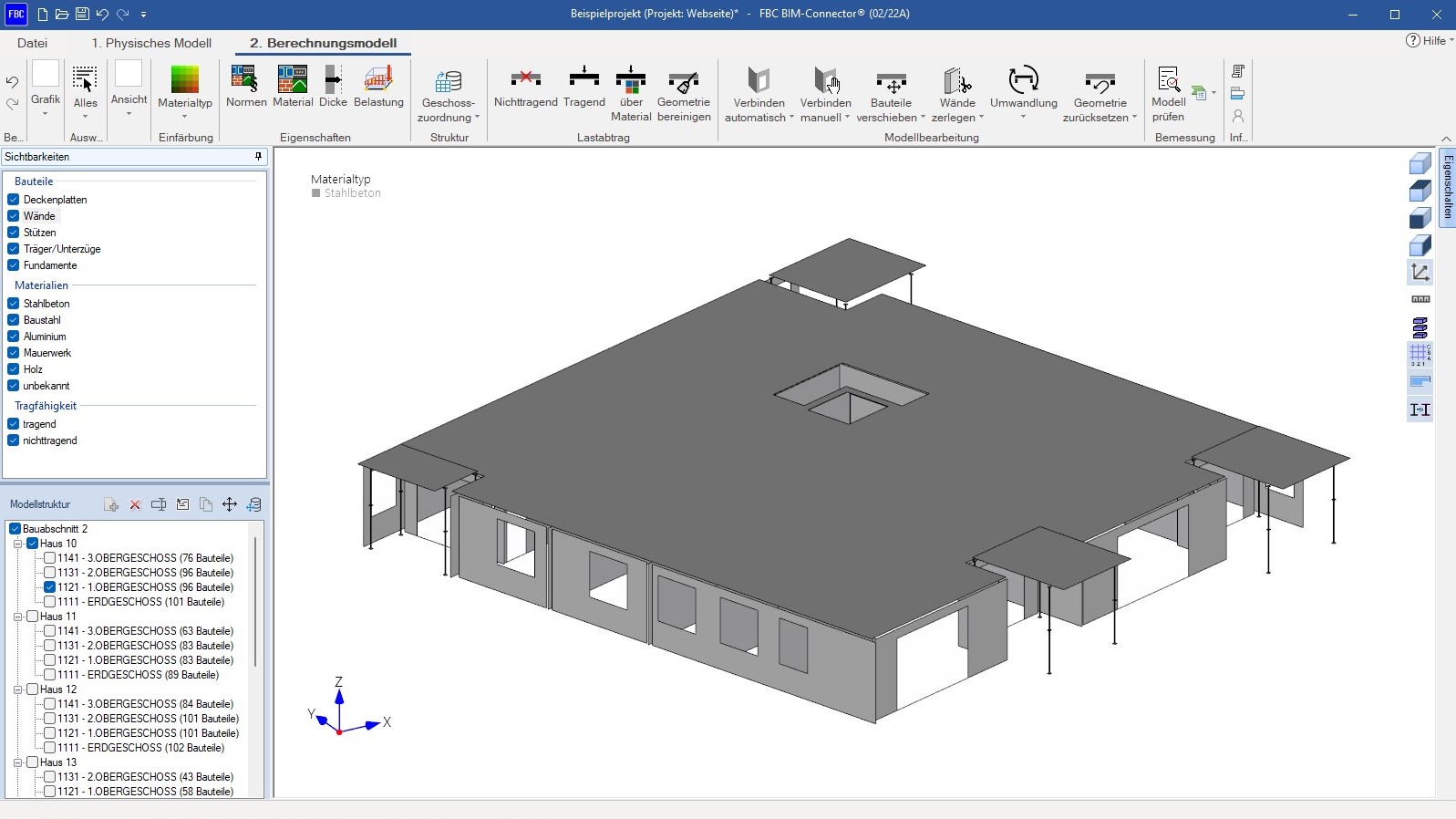 From the physical model to the analysis model
By switching from the Physical Model to the Analysis Model using the corresponding button, the solid elements of the Physical Model are automatically converted into bar elements and area elements in the blink of an eye.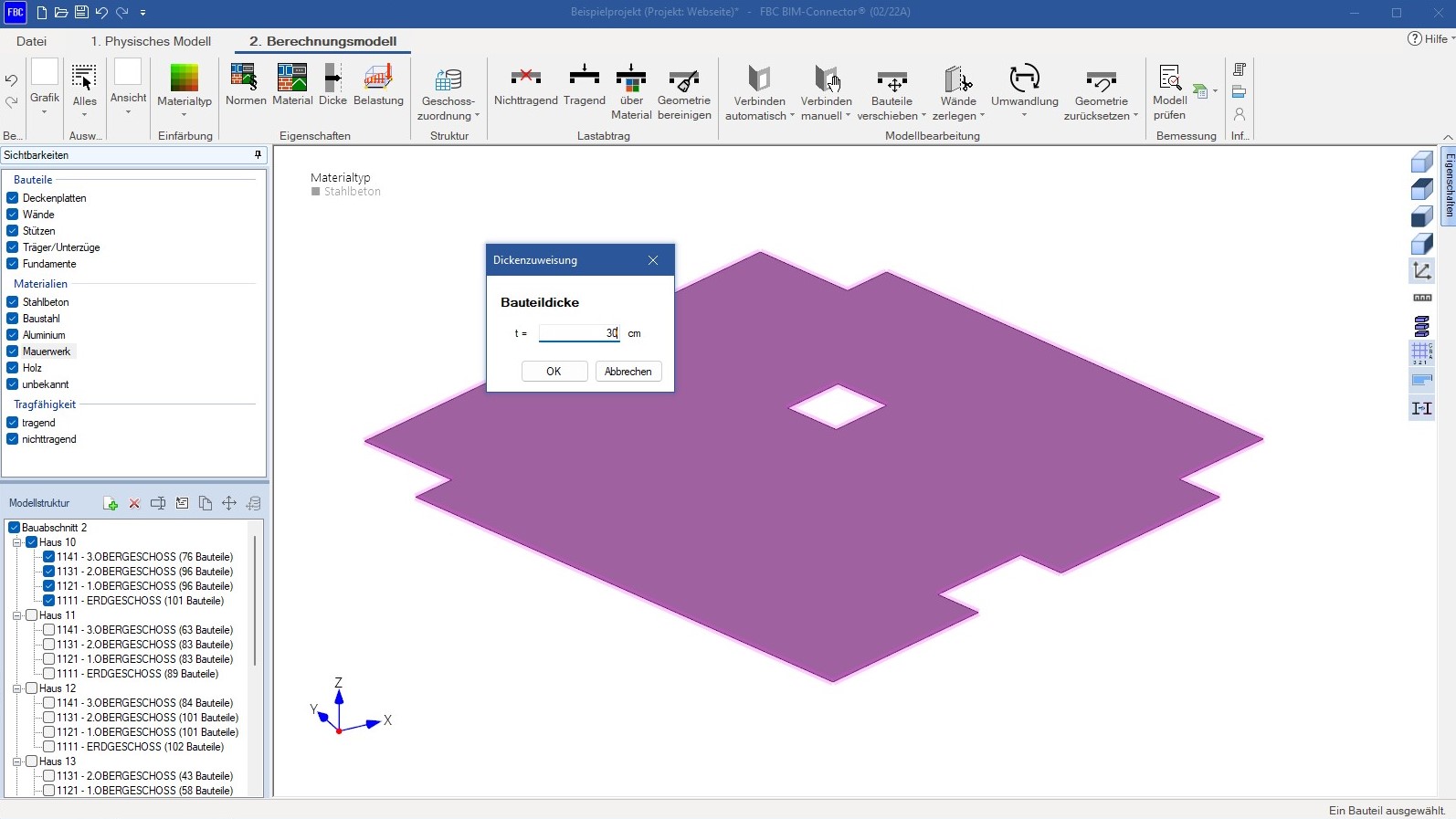 Subsequent adjustment of component thicknesses
The Thickness function can be used to subsequently change the component thickness for flat components (walls and floor slabs).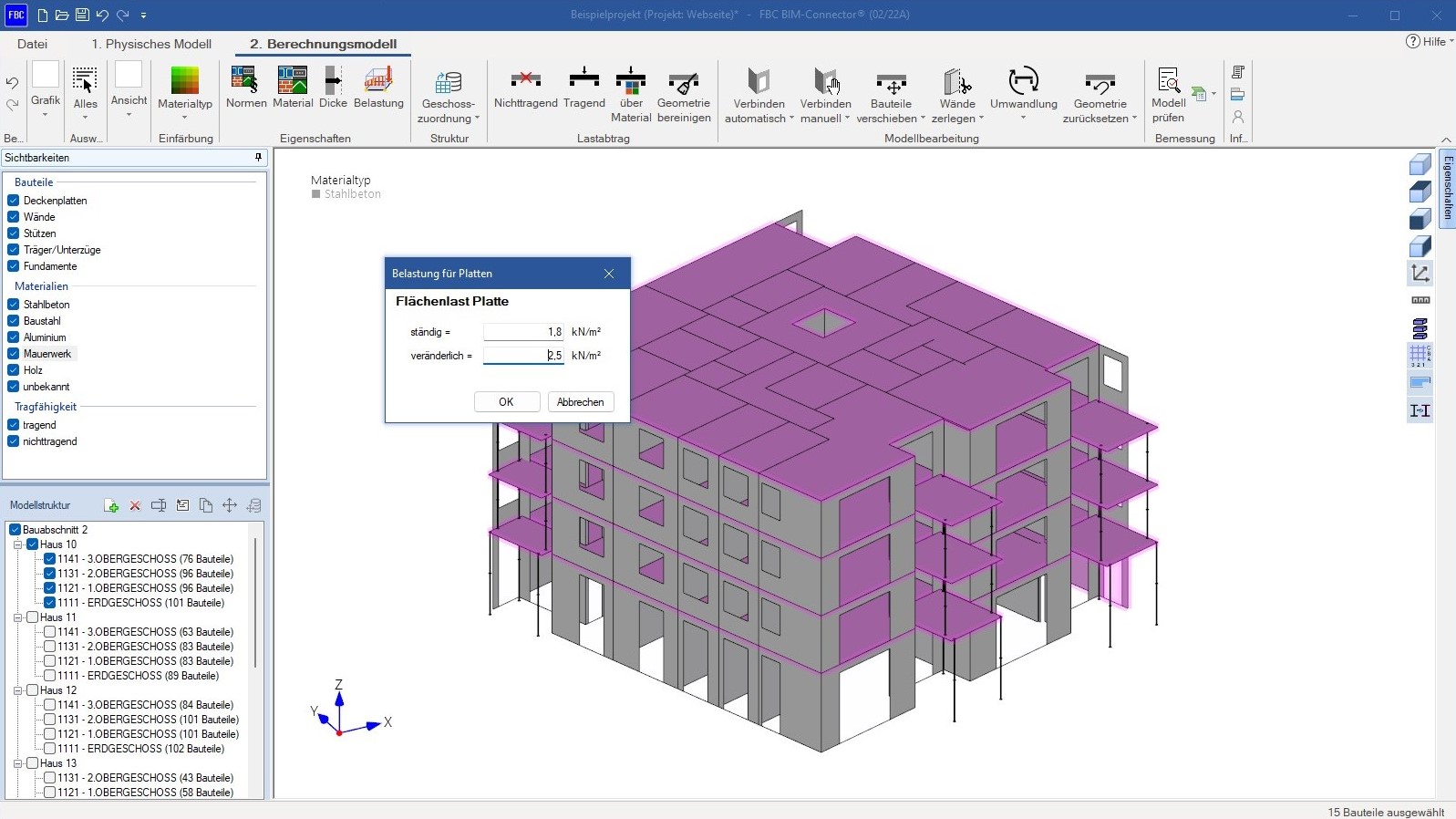 Addition of constantly acting area loads
With the Loads function, constantly acting permanent and variable area loads can be applied to floor slabs. In addition, the user can add a load from plaster acting on both sides of a wall in the form of an area load.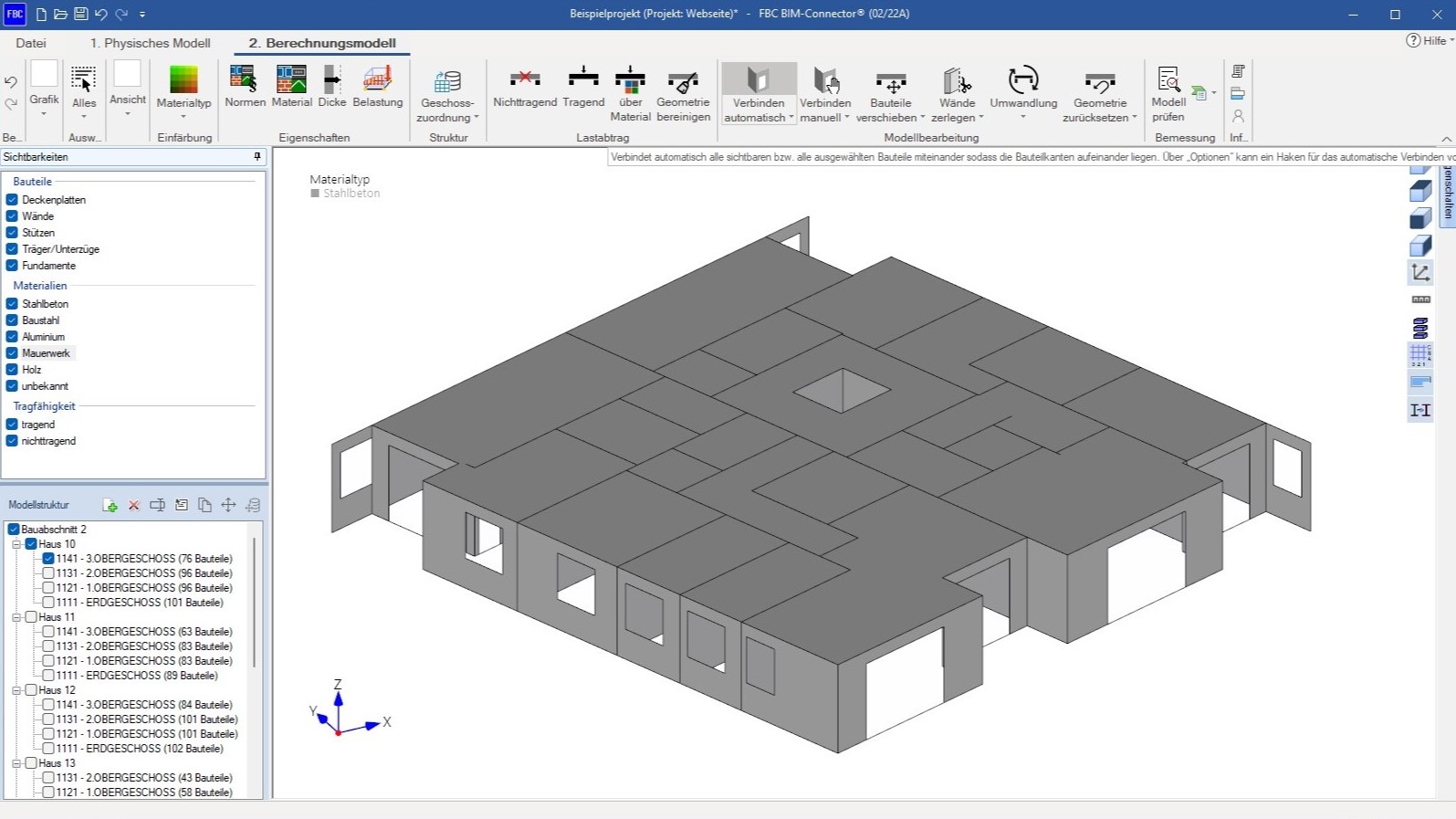 Adjustment of the geometry of the calculation elements
With the function Join automatically the geometry of the calculation elements can be adjusted by connecting unconnected components with a mouse click. In addition, the user can connect components subsequently via the function Join manually.
Automatic editing of walls
Using the function Disassemble walls, the user can process walls in different ways depending on their openings and consider the modified wall models in the design. Walls can be decomposed into their individual structural components or divided into strips, for instance.
Move components
Using the Move members function, you can move component axes in relation to each other. This way, you can ensure a clean load transfer. It is possible to place components onto the contour of the slab and also, to move components to the axis of another component.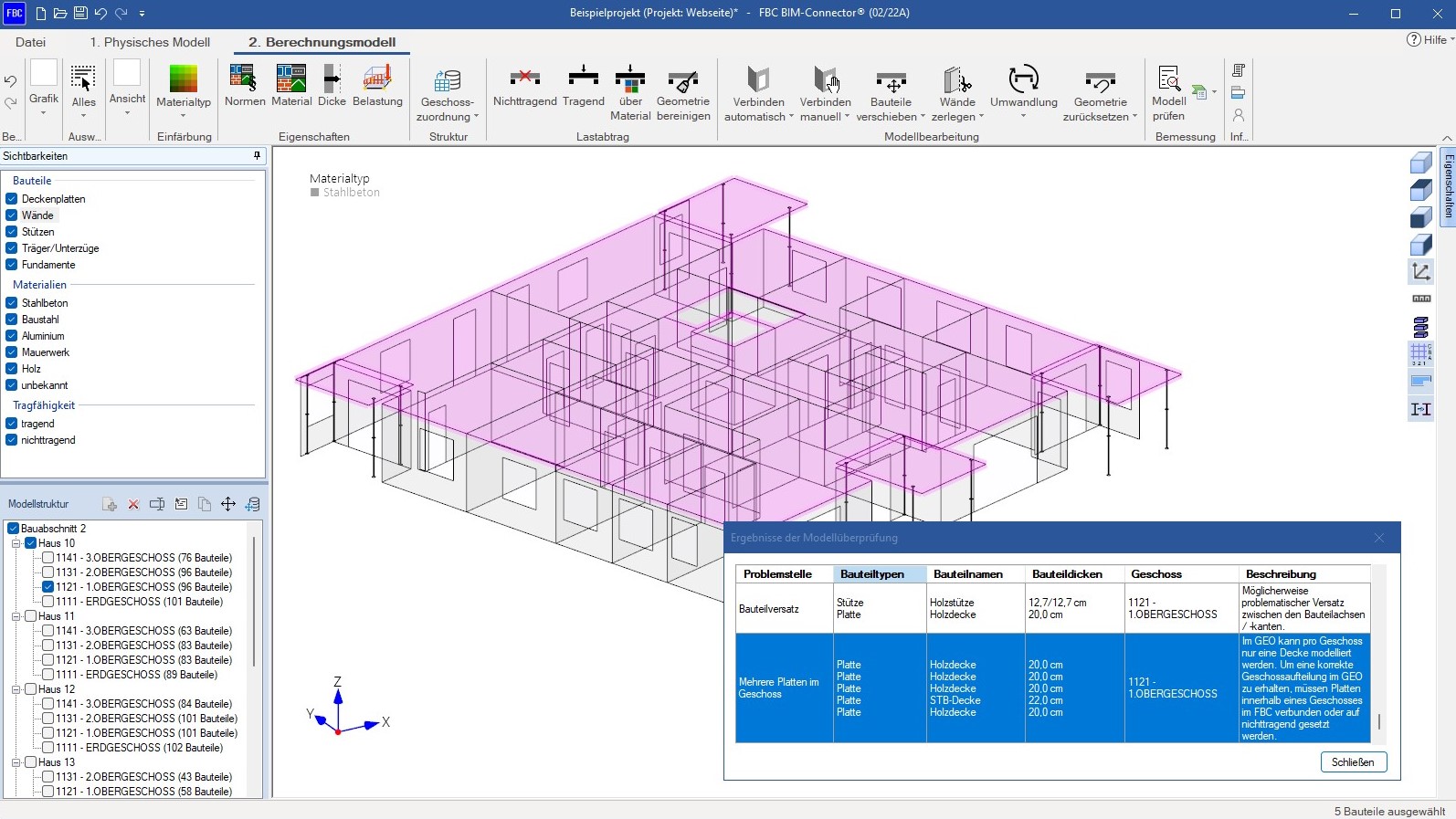 Check the model
The function Check model can be used to check the model for an unfavourable alignment of components. It is verified whether the building component axes are positioned one above the other across floors or extend each other within a storey.
IFC file standard
The Industry Foundation Classes (IFC) format is an open standard in the construction industry for the digital description of building models. Designers who create a building model can describe it in a way that is independent of specific software. Geometry, attributes and descriptions of building components as well as structural information of building components can be transmitted. After the IFC file has been transferred to the BIM Connector, it is first opened as a physical model in which the building data are reduced to structurally relevant components. The cleared-up model is then prepared in the calculation model for the structural calculations. The BIM Connector supports the following file formats:
Import: IFC 2×3, IFC4, *.Ifc, *.IfcZip and *.Zip, IFC4 Structural Analysis View
Export: IFC4 Structural Analysis View
SAF file standard
The Structural Analysis Format (SAF) is an Excel-based open file format developed by the Nemetschek Group that is specifically tailored to the needs of structural engineers. In contrast to the IFC file, the export file that is transferred to the BIM Connector is based on a structural analysis model that has already been created. As a result, the BIM Connector opens the calculation model directly after the import. Components are transferred in the connected state and materials are already assigned. The BIM Connector supports the following file formats:
Import: SAF 1.0.5 – 2.0.0
You may also be interested in these programs